West Auckland based performing artist Spencer Papali'i ventures out into Aucklands theatre market with new work entitled O A'u. Presented in July 2017 at Mangere Arts Centre as part of the Pacific Institute of Performing Arts (PIPA) season of 3rd year student solo works entitled "Ei Mua" directed by Louise Potiki-Bryant and Marlon Ortiz. Papali'i will remount O A'u as a full length solo production at the Basement Theatre from the 19th – 23rd of September, programmed as part of Auckland Live's International Cabaret season for 2017.
As part of the short dance production "$TØRM" for Short & Sweet Dance Festival, Papali'i's moniker and drag persona "Shanita Kunteee" donned the stage for her second outing under the direction of creator and choreographer Tekepa Aria, alongside other members of the burgeoning Vogue community, including FAFSWAG's Khaos and House of COVEN members, FANG and Princess.
This collaborative F'U to spectators was an audience fave, taking away the Short and Sassy award sponsored by Tempo Dance Festival. If the energy and attitude of "$TØRM" is any indication of the types of narratives that interest Papali'i then O A'u is bound to be an intriguing following act.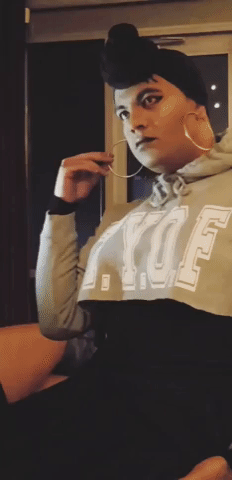 2017 has delivered a number of queer indigenous works, such as Fa'aafa and Femslick seasons and the recent work of Ali Foa'i and his solo show 'Thirsty' that just finished at Basement. Papali'i's O A'u will debut during what seems to be a very fertile year for queer indigenous arts.
The next 3 months will see Jaycee Tanuvasa presenting Revival at M.A.C and COVEN rolling out 'Inferno' for tempo, with respective artist Jacob Tamata and Moe Laga also dropping solo projects before the end of the year.
We're enjoying a time of growing creative output from a new generation of queer indigenous arts practitioners and it's pretty exciting. You can start to get a sense of queer cultural language and artistic vocabulary beginning to take shape in the Pacific arts in Auckland and O A'U is set to find it's place amongst it all. Be sure to get your tickets and soak it all up.
O A'U
"My face is my canvas; the brush is my culture, the beauty blender is my sexuality. Each stroke, each glitter cut crease eyeshadow, each highlighted cheek, feathered eyebrow and contoured jaw. With each step, O A'u becomes clearer. Is your canvas blended? Are your harsh contour lines visible? Are you glowing for the Gods?
Shooing away the negative stigmatism surrounding the artform in New Zealand, Spencer Papalii shares his love of drag as a creative outlet, as well as his story of growing up queer and Polynesian in New Zealand."
O A'u is part of the Auckland Live International Cabaret Season 14 Sept – 1 Oct.
See more details at http://www.aucklandlive.co.nz